Skin & Body Care 美容/身體護理

FLOWER SHOWER 花精沐浴乳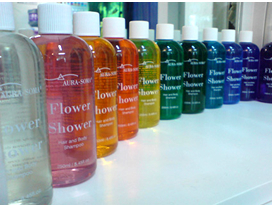 如何選用合你的花精沐浴乳
方法一 : 直接選你喜歡的顏色,不必多想。
方法二 : 可參考顏色解讀,選擇你所需要的花精沐浴乳
A beautiful top to toe flower shower, made with love - use with joy, shower with Light! Contains herb extracts and essential oils to cleanse and condition the skin and the hair. Available in 14 different colours, each with a different fragrance.





SEAWEED MINERAL BATH 海藻礦物沐浴乳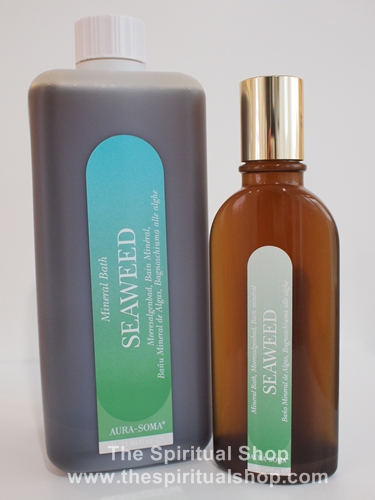 海藻沐浴乳由天然的海藻粹取物製成,富含多種維他命、碘及其他礦物質微量元素,可以清潔身體並活化肌膚,幫助身體抵禦外在的毒素及輻射的吸收並滋潤乾燥肌膚。瓶底的沉澱物是海藻精華濃縮,因此使用前要搖勻,將全身放鬆在海藻沐浴乳中,可以促進血液循環及排除多餘的水分,並緩和疼痛的肌肉。獨特的海洋香氛令沐浴時提昇放鬆的情緒。
Based on ingredients used in ancient cultures to help to bring spiritual well being. Use this product for an enhancing, relaxing and nutrient rich soak. Contains naturally sourced wild seaweed, rich in subtle elements and a natural source of iodine. In these days of pollution, it helps to protect the body against the absorption of toxins and radiation. For those flying frequently or regularly exposed to computers, radio-activity or mobile phones, it is balancing to the energetic systems and the iodine helps the body to rid itself of radio-activity.





ALL PURPOSE CREAM 全功能乳液

*已停產*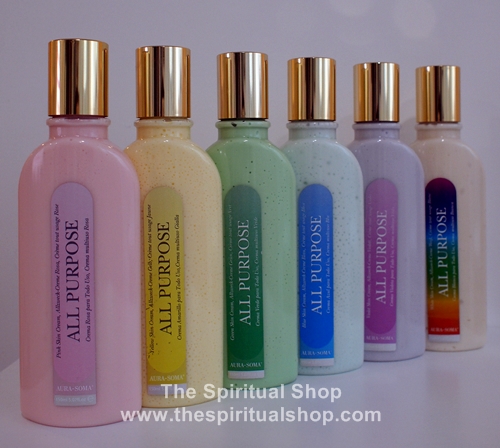 (6 Colors -Pink,Yellow,Green,Blue,Violet & White)各種膚質皆適用的潤膚乳液。這是一款可潤膚保濕的乳液,在維琪的自傳裡稱之為「奇蹟的乳液」,因為它是經由靈感和啟示所創造出來的。它可以平衡皮膚的PH酸鹼值,含天然精油但不油膩,幫助改善皮膚的所有狀況,臉部身體各部位皆可使用。對於皮膚的再生更新特別有效用。藍色和白色特別適用於嬰兒的臉頰,白色還有淨化皮膚中毒素的功能,用粉紅色作手部按摩,效果更佳。可搽身體,手部及面部均可。
All Purpose Creams are available in 6 different colours and this was originally called Vicky's Miracle Cream that she spoke about in her book. It is ph balanced and non-greasy with natural essential oils for refined skin care for all situations for both face and body. It is also very helpful for skin regeneration. It is a softening cream with natural fragrances from essential oils. It is very good for dry skin conditions and can be used for the whole family.A general moisturiser for all skin types. Perfect as a make-up base or day cream. Apply to any part of the body, also can be nourishing for hands and nails.





COLOR ESSENCE CREAM 顏色劑乳霜 (15 Colors)

*已停產*




這款保濕乳液不只提供日常的保養,還含有Aura -Soma®的顏色劑成分在內,而顏色劑又被稱為液狀的光,它是維琪所創造出來用以呼應我們所選擇的四瓶平衡油,幫助我們身體以一種微妙的方式吸收我們可能會需要的顏色,因此使用這些乳液可以享受光,植物,樹,水晶和礦物的色彩能量的滋潤,塗抹在臉上有助於外在供給的養分進入內在,也很適合用在按摩與穴點療程上。可作日霜及晚霜使用。
These are moisturising creams for daily care with the addition of the Aura-Soma® Color Essences, which are called Liquid Light. They were created by Vicky to support our four bottle choice, and it is a subtle way of absorbing any color that your body may require. Wonderful for the face and they help to provide nourishment from the outside inwards. They are very well suited for massage and reflexology.
How to use: Use as face cream and apply to the chakra(s) or body





ROSE WATER 玫瑰活水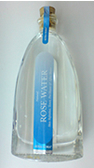 玫瑰活水是最悠久同時也是最佳的醒膚水,它非常的芳香並且提供肌膚絕佳的調理,具有再次清潔並鎮靜肌膚的功效,且完全不含酒精。在日常清潔的程序後,取適量的玫瑰活水,輕輕的拍打皮膚使之吸收。
Rose Water is one of the oldest and best skin fresheners.
It is deliciously scented and makes a highly effective skin tonic.
Cleanse the skin using your normal routine, then follow with the Rose Water, lightly stroking onto the skin. The refill pouches are ecologically developed and have a re-sealable flip top lid to enable you to top up the blue glass bottle as you use it. (Bottles made from recycled glass)


SKIN REVITALISER / TONER 回春化妝水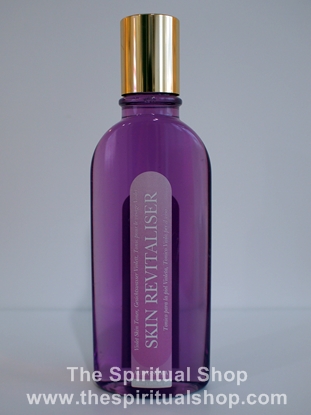 (5 Colors - Pink, Yellow, Green, Blue & Violet)
回春化妝水搭配全功能乳液一起使用會有極佳的效果。具有再次清潔並且醒膚的功效,能讓臉部煥發自然的光采,針對疲憊的肌膚也很有效果,尤其是可以緊緻活化頸部、鎖骨、肩部、手肘與膝蓋等區域的皮膚。膚色不均勻或是毛孔粗大等困擾尤其可以推薦使用紫色、藍色或綠色,能夠幫助改善臉部的出油情況及粉刺等問題。
These work perfectly with the All Purpose Creams. They cleanse and refresh the skin and give it a radiant appearnace. For all tired skin. They especially strengthen and vitalise neck and decollete' as well as the sking around the elbows and the knees. When used regularly, it helps to get your skin in peak condition.


TAO AFTERSHAVE 50ML 清爽鬍後水&蜜 (備有藍綠&金色)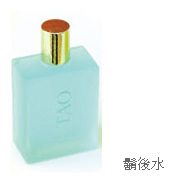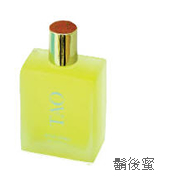 有鎮靜及滋潤的效果,鬍後使用
A balanced aftershave made from combinations of herbs of the finest quality. In 2 colors, Aqua and Topaz.
Aqua - Turquoise with a smell of pine forests.
Topaz - Gold with a wonderful citrus smell.





ABUNDANCE HAIR TONIC 生髮水



能促進頭髮生長,適合所有缺髮的狀況使用
This is a purely herbal process involving the interaction of special herbs. It can help to revitalise hair and encourage a balanced hair growth. It has been used in many situations where hair loss has occurred.





EYE ILLUMINAIRES 視能量瓶 (一組兩瓶)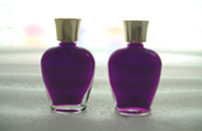 視能量瓶對疲勞或緊張的眼睛特別有效。
使用方法:首先必須拿掉眼鏡或隱形眼鏡,握住瓶蓋對著光(但不可直接對著陽光)貼近睜開的眼睛讓紫紅的折射光穿透眼睛。如此數三十三秒之後馬上閉上眼睛。如果看到藍色或寶藍色則表示第三眼是打開的;粉紅或淡紫紅表示眼睛是健康的;黃色、綠色或其他顏色通常表示眼睛不平衡。
經過一段時間的使用訓練之後,眼睛有可能再度平衡,所看到的顏色會不一樣,視力會有所改善。
The Eye-Illuminaire is purple-magenta in colour although in the process of re-balancing your eyes you may find that it changes colour. It is recommended that like the Equilibrium bottle it works specifically with you and each person should have their own personal eye-illuminaire. It is effective for tired and strained eyes and useful to keep in the car should you have sleepy eyes.





CAREFREE FOOT LOTION 足部無憂水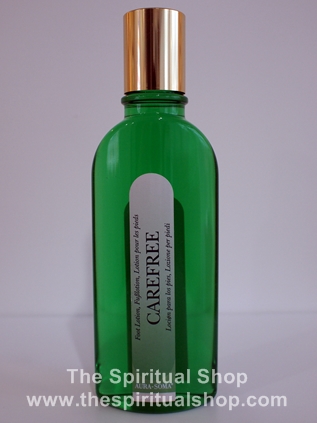 這個處方是在戰爭期間為士兵長期悶在軍靴的問題雙腳所製作出來的,從那時起就在各診所的使用上獲得好評和療效,歷時至今已經被無數的使用者證明它的存在價值。它可以舒緩雙腳的各種疼痛並且減輕腳汗及腳的氣味,已經被公認為是慢跑者和運動員運動前後的最佳保養水。早晚噴於腳部。
It was originally called 'New Bliss' and then 'Foot Hold' before becoming Carefree. It can be very helpful for sore, aching or tender feet. Enriched with herbal extracts which are specific for putting a spring in the stride again, it is also anti-fungal and a most effective natural deodorant.





RELAXING/STIMULATING MASSAGE OIL 放鬆/激發能量按摩油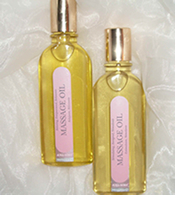 多年來,深受瑞士及英國的按摩治療師推崇其療效與愛用。那是維琪為所有類型的皮膚所調配的處方,不會影響按摩師雙手的敏感度,並能夠發揮其中天然植物精油的功能。
「激發」按摩油能夠激發身體深層的能量,而「放鬆」按摩油則能幫助身體肌肉達到一種絕妙的輕盈狀態。可按不同情況,使用放鬆或激發能量按摩油作身體按摩。
A penetrating massage oil that is able to relax / stimulate energy at a deep level; warming cold muscles and increasing circulation.


DUAL COLOURED SOAP 植物雙色皂 (共3色 #05/63/83)

*已停產*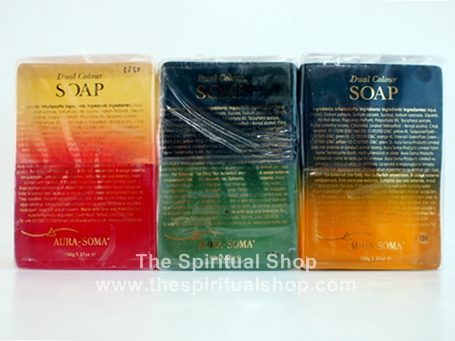 將平衡油的能量與色彩帶入精皂之中。讓平衡油的能量發揮在臉部及身體的日常清潔程序中。可洗手、洗澡、洗臉。
To complement the Seaweed Mineral Bath. This lathering soap is ingrained with Wheat Bran to produce a mild exfoliant for the skin.